At the time of deposit, you'll receive:
A sticker and a prize from our small prize box.
After 5 deposits of $10 or more, choose a sticker and a large prize!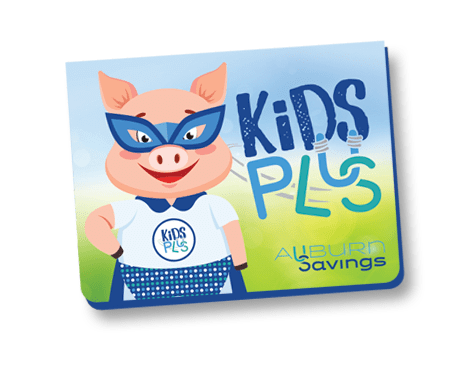 KidsPlus Passbook to log deposits and withdrawals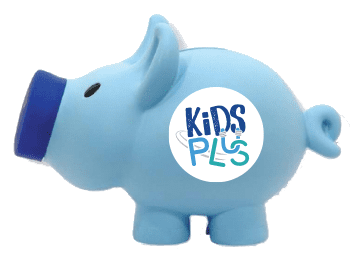 KidsPlus official piggy bank to save your money
KidsPlus activity book with coloring pages, crosswords and more.
Save. Spend. Give.
We want to teach children how to use money wisely, which is why we offer a program designed to encourage children to save, spend responsibly and give back to their community—all at the same time.
Save
Put any money you've earned into your Auburn Savings KidsPlus piggy bank and save your money safely until your next Auburn Savings visit.
When you're ready to make a deposit, bring your passbook and piggy bank to either Auburn Savings locations and visit one of our helpful customer service representatives to make a deposit. (You must have your passbook in order for the deposit to count as one of your 5 toward a large prize).
Spend
Remember your savings goals for the things you want to buy and decide how much you want to keep in your piggy bank for spending.
Give
At the time of deposit, decide how much you'd like to give to a local charity and let the customer service representative know.
The customer service representative will withdraw that amount of money from your account or deposit and will donate it to the selected charity with all other donations at the end of the year.
Each year, Auburn Savings will match donations to the selected charity up to $1000!
Download our activity pages
Download our coloring pages
Additional Resources:
U.S. Currency Education
U.S. Mint for kids
KidsPlus Terms and Conditions
Only children 12 and under are eligible to participate in Auburn Savings' KidsPlus program. Once a KidsPlus Savings account has been opened with a parent or guardian as co-signer, the child will receive a KidsPlus passbook to record all transactions. The child and KidsPlus Savings passport must be present at time of deposit to have it counted as one of the five deposits of $10 or more towards choosing a larger prize. Prizes and availability are subject to change. The child will also receive a KidsPlus piggybank and activity book as part of signing up.
Lost or stolen passports can be replaced, but passport deposits will start new once the new passport is issued; past entries will not be counted toward the five deposits of $10 or more.